The Ellicott City Soccer Club prides itself on being operated by soccer people. After all, one of our core values is that we are soccer people serving soccer families. Our board is made up of advocates for the game of soccer and want your child to have a great experience playing sports, just as they did. The board understands the value of the soccer experience in the overall development and will make decisions based on what is best for the whole club, rather than an individual, a team, coach or a certain level of play.  Our board also knows how to create a true club culture drawing from their personal experiences, blending the best characteristics from each member in order to offer a unique soccer experience. The board members are listed below: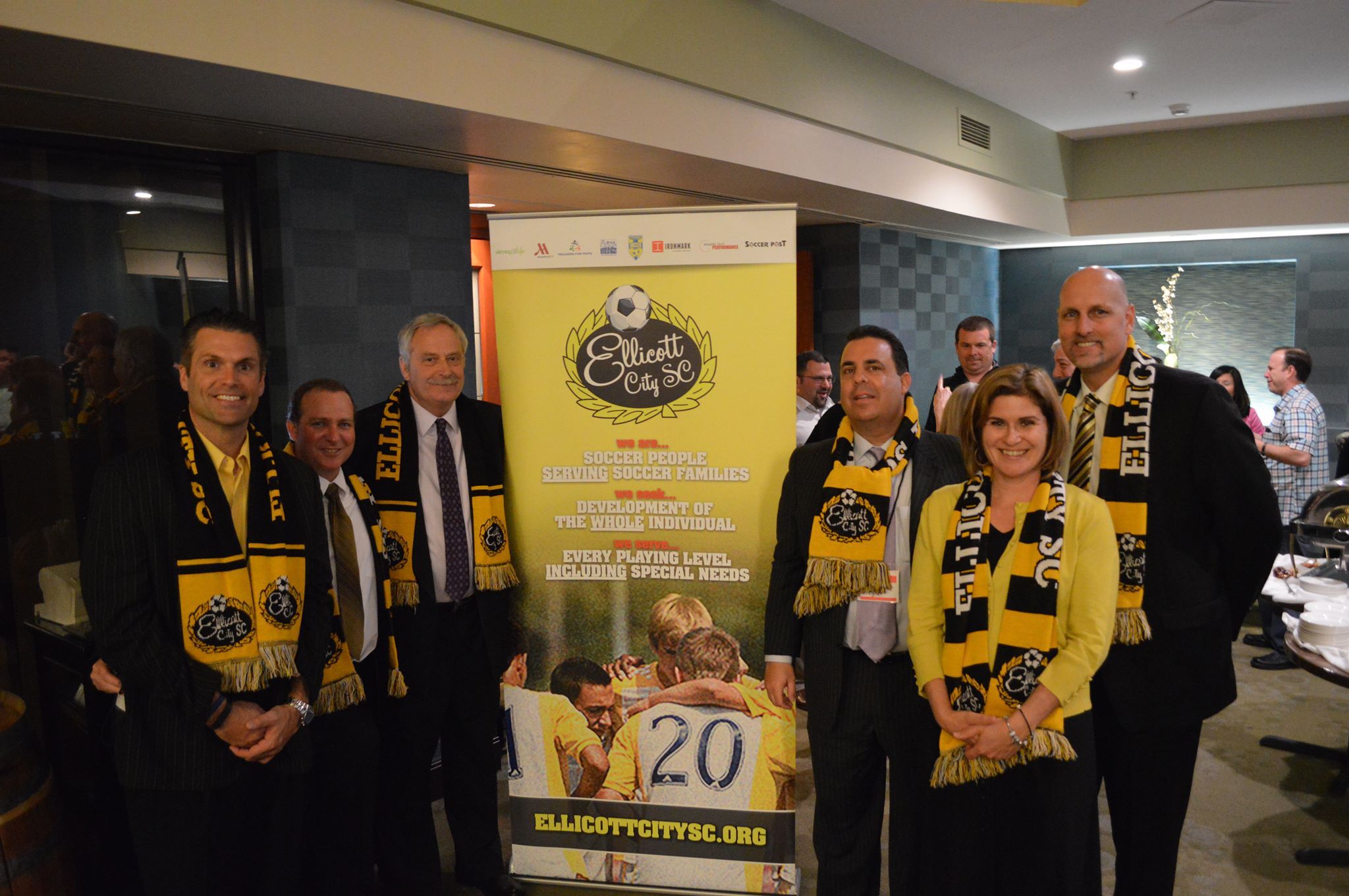 Club President Ken Heydt is a founding member of the Ellicott City Soccer Club and is actively involved with the development of strategic and tactical planning, goals and objectives.  Ken and his family are long-time residents of Ellicott City, MD.  Ken was on the original Thunder Hill Thunderbolts Team/Columbia Soccer leading his neighborhood rec soccer team to an undefeated season. From there he attended Oakland Mills High School where he had the good fortune of playing alongside Howard County soccer legend Darryl Gee and for Howard County coaching legend Al Goldstein winning three consecutive state championships while being ranked as the number one High School Soccer Team in both the Baltimore Sun and Washington Post.  Ken went on to play collegiately at DI soccer power The University of Akron and from there on to The University of Hartford, coaching at the DI level for several years.
Vice President, Mike Senisi
Mr. Senisi has been involved with youth, high school and collegiate soccer for over 25 years.  As a former player at SUNY Cortland, collegiate soccer coach at Cazenovia College, founder/director of Soccer Explorations (soccer for 3-5 year olds) and high school soccer coach at Centennial HS, he understands the true significance of proper instruction at every age level.  Mike has been with the Howard County Public School System for over 25 years and is currently the Athletic Director for Atholton HS, With Mike's experience and knowledge of the game, he is a true asset to our CiTY board.
Mr.  Mamula is a local product that has been engaged in soccer since he was a young child. He played in multiple clubs in his youth career here in Maryland, and capped it off with an excellent career at University of Maryland Baltimore County (UMBC - Class of '94). Robbie was a four year starter and graduated with a Degree in Business with a concentration in Sports Management. He has coached his children for the last thirteen years in soccer and baseball. His professional career is in the food service industry working for Butterball LLC, the largest turkey company in the world.
Mr. Ryerson is a retired engineer who recently served five years on the board of a (non-profit) private school in the capacity of Treasurer/Financial Advisor .   A long time soccer parent (and grandparent) of both male and female players from the youth to collegiate level and beyond, Mr. Ryerson serves on the Board of CiTY with integrity, efficiency and attention to detail.
At Large, Samuel L. Hinson
Mr. Hinson is a founding member and early supporter of the Ellicott City Soccer Club and he remains engaged with the club in an Advisory Board Member role.  We are grateful for his ongoing contributions to the club on every level.  Mr. Hinson is an Oakland Mills High School graduate and soccer alum who went on to a highly successful four year DI soccer career at the University of Jacksonville.  The beautiful game has provided Mr. Hinson with important life lessons, demonstrated through the actions of acclaimed coaches, dedicated parents and supportive families he has come into contact with throughout his many years around the game.  He has been instrumental in collaborating with "CiTY" Board Members and the Leadership Team to shape the club's mission, vision and values; and his vast business expertise and insight continue to serve the club well.
Andy grew up in Catonsville playing soccer for a local travel team.  In his early teens, Andy decided to move to a soccer club in Howard County.  This decision helped develop Andy into a player that would go on to play Division I soccer at Loyola University MD.  Andy has been involved in coaching with City. Andy is involved in several businesses including a real estate information services company he co-founded in 1999.  Community involvement is very important to Andy and he has served on the Board of Directors of the Ulman Cancer Fund for Young Adults and Zaching Against Cancer. Andy is  instrumental in helping the club create partnerships with the business and non-profit communities in and around Howard County.